African American Museum (Cleveland)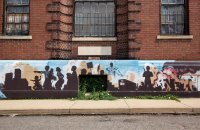 The museum was the brainchild of Icabod Flewellen. Born in 1916 in West Virginia, Flewellen began obsessively collecting items relating to black history at a young age. At that time black history was very seldom studied. Not until 1926 was Dr. Carter G. Woodson's "Negro History Week, " later to become Black History Month, celebrated. Flewellen's original collection was destroyed when a mob of whites burned his house down immediately after WWII. At the end of the 1940s, Flewellen moved to Cleveland and began his collection anew. Black family histories, local history, African artifacts, and the history of black inventors constituted much of what became his new, massive collection. Icabod's Cleveland museum, originally dubbed the Afro-American Historical and Cultural Society, started in his home. In the early 1970s, the museum relocated to 1765 Crawford Road in the Hough neighborhood.
From 1984 until 2005, the museum was open full-time. After the death of Flewellen in 2001, the museum remained open for a few more years. In the subsequent years after its closure, break-ins and thefts plagued the shuttered museum. In 2010 a new executive director, Frances Caldwell, and a new board re-opened the museum part-time. Since the start of their tenure the museum has been designated a local landmark. The museum also arranged through the county to receive individuals needing to complete community service. As part of this program, a library science student and a retired librarian managed to catalog thousands of books and magazines, left as donations for the museum, in six weeks.
This summer the museum received 13 children from Youth Opportunities of Cleveland. The students provided community service at the museum, and they had numerous chances to hear from a variety of speakers and educators. Students learned about African history, Kwanzaa, good citizenship, and community service. They even received instruction in African dance. At the end of their service the children held a poetry slam and set up a bake sale to raise money for museum repairs.
At the start of the summer the executive director asked the students a simple question: "How many of you would like to go to Africa someday?" Only two raised their hands. At the end of the program, when she asked the same question, nearly every hand went up. Several students approached her and said, "My parents say it's okay if I go with you to Africa!"
As of right now the museum is open part-time Monday and Tuesday from 10-3 and also on Saturdays. Anyone interested in volunteering can contact Ms. Frances Caldwell at 216-374-2899.
Time and the elements have wrecked havoc on the 108-year-old former Cleveland Public Library building. The museum needs a variety of repairs, including a new roof, in order to re-open full time.
big dollar casino bonus codes