Westmoreland Museum of American Art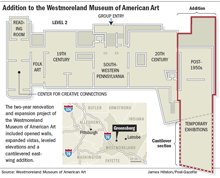 Share with others:
By M. Thomas / Pittsburgh Post-Gazette
The new Westmoreland Museum of American Art, which debuts next weekend, stands out in an expanding Greensburg cultural landscape.
Curiosity has been growing among art lovers and residents over two years as they watched the museum parking lot disappear and its Georgian facade morph and open up like a butterfly emerging from a chrysalis.
Revelers will be able to explore the reconfigured exterior and interior during a Saturday evening dance party and free Sunday Community Day. But the museum hopes that's just the beginning of a long-term relationship.
If you go ...
Where: 221 N. Main St., Greensburg.
When: Reopening weekend events: Sat. 7:30-11 p.m., The Sky's the Limit Dance Party, $75, members $60. With Tracksploitation, DJ Gordy, performances by Beauty Slap, Attack Theatre, The Stefan T. Zubal Project and hula hooper Amanda Faye Peck; food stations and cash bar. (Saturday VIP pre- and cocktail parties sold out.) Next Sun. 11 a.m.-3 p.m., Community Day, free. With marching band Colonel Eagleburgers Highstepping Goodtime Band and theatrical troupe Stage Right! Pittsburgh artists and puppeteers Tom Sarver & Mike Curraro perform and conduct workshops: Build a puppet and participate in a puppet pageant around the museum grounds. Children and their families can step out with DJ KellyMom of Kid City Rockers.
Exhibitions: Inaugural exhibitions include the re-installation of the permanent collection; "All About Color and Geometry: Selections From the Diana and Peter Jannetta Gift of Art, " through April 17; "A Passion for Collecting: Selections From the Richard M. Scaife Bequest, " through Feb. 14; and "Making the Westmoreland Museum of American Art, " architectural drawings, models, photographs and renderings both realized and proposed from the original building until today, through April 17.
Hours: (beginning Oct. 25) 11 a.m.-5 p.m. Tuesdays through Sundays and until 7 p.m. Wednesdays.
Admission: Suggested donation $15 adults; $10 seniors; free for children age 18 and under, students and military (active duty & reserve) and their families.
You might also like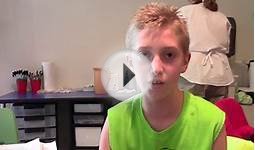 What makes kids happy about art at The Westmoreland?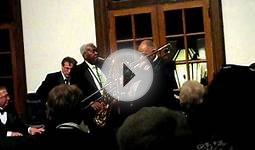 Harold Betters Quartet at Westmoreland Museum of American ...
Westmoreland County, Pennsylvania: Including its History, the Greensburg Downtown Historic District, the Westmoreland Museum of American Art, the St. Gertrude Roman Catholic Church, and More


Book (Earth Eyes Travel Guides)



Q&A