Biggs Museum of American Art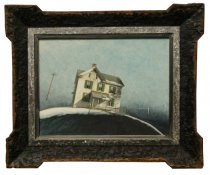 New Discoveries: Michael Robear
Often, the Biggs Museum's staff has the good fortune to discover talented artists within this community who have not received enough critical attention. Michael Robear is undeniably one of those artists. Robear began in childhood depicting wildlife and Mid-Atlantic landscapes. From his home in nearby Cecil County, Maryland, Robear grew up admiring, even emulating the members of the illustrious Wyeth family, especially Andrew Wyeth. From high school, he was accepted to the Corcoran School of the Arts where he developed his surreal interpretation on regional landscapes and people with an adventurous application of his preferred medium, watercolor. The artist's cavalier use of water-based paints is contrasted by the unique frames he forges from metal. A professional metalsmith, Robear has been completing his works within his own sculptural frames for several years, melding his two passions into unforgettable works of art.
Illuminating the Word, The Saint John's Bible
The Biggs Museum of American Art is exceptionally proud to be a rare American host of Illuminating the Word, The Saint John's Bible. This international exhibition features 70 pages of The Saint John's Bible, the first monumental hand-illuminated bible to be commissioned by a Benedictine monastery in over 500 years. Saint John's University, Collegeville, Minnesota, commissioned the enormous art project of an entire hand-painted bible: every word, every illustration, every image, from one of the best-known contemporary scribes and illuminators in the world, Donald Jackson. The artist's team worked for almost fifteen years to adorn each vellum page of The Saint John's Bible in the manner that medieval monks created bibles before the invention of the printing press: quill and ink. These inspiring accomplishments will be accompanied by a display of tools, materials and artists' drafts used in the Bible's creation along with other examples of historical illuminated books and manuscripts from the collection of Saint John's University and private collectors. The exhibition will be accompanied by several educational tours, lectures and artist workshops for all skill levels honoring the ancient traditions of book arts.
You might also like
Cherish Art 100% Hand Painted Mordern Oil Paintings Two People World Of Shadow Cities Splice 3-piece Wall Decoration(20x30Inchx2pcs,20x20Inchx1pcs)


Home (Cherish Art)




Size:20x30Inchx2pcs,20x20Inchx1pcs (50x75CMx2pcs,50x50CMx1pcs)
Gallery wrapped and stretched with wooden frame on the back. Ready to hang. Edges are painted. A perfect wall decoration for living room, bedroom, office, hotel...
Hand-painted high quality canvas oil painting painted by professional artists with years of oil painting experiences. A great gift idea for your relatives and friends.
Actual painting may be slightly different from the product image due to the different brand of monitors,Please refer to the colors shown in the photo. Materials/Milieu:...
Why Hesitating? Just Choose to decorate your house to be much more warming during every day! Once you choose Cherish Art oil paitings, we will send you the official...