Hunter Museum of American Art (Chattanooga, TN)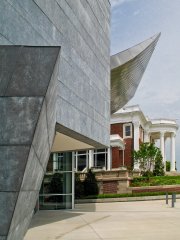 Designed by architect Randall Stout Architects, this was Zahner's first project with the renowned firm. Mr. Stout grew up in Tennessee, so to be chosen to design Chattanooga's new American Art Museum was particularly meaningful for both the community as well as the architect.
The Hunter Museum sits on an 80' tall bluff above the Tennessee River where the building's dynamic lines and twisting curves provide a contrast to the original museum's classic style, adjacent to Randall Stout's contemporary design. Zahner produced the geometric zinc metal surface as well as the curvilinear Angel Hair™ stainless steel roof forms.
Detail of the New Hunter Museum entrance.
Photo © Scott Moore.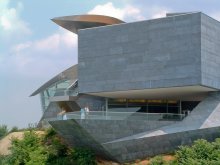 Visitors on the outdoor deck of the Hunter Museum.
View of the Hunter Museum of American Art at sunrise.
Selecting the Surface
The architect's specifications originally called for a limestone exterior in additional to the stainless steel curving roof. Limestone would have cladded the vertical walls as well as many of the slanting angles throughout the building. As the project progressed, it became apparent that installing limestone was implausible in many areas due to the structural weight of the material.
At this point, the architect turned to Zahner, who was already contracted to produce the stainless steel roof. Stout architects asked Zahner to come up with some textured surfaces to match the limestone aesthetic. Zahner has wide-range of patinas all types of metal. The design team worked through several options, and decided to replace the limesstone with a light gauge zinc facade which would respond to the surrounding river bluff limestone.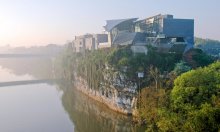 The result is a patina Zahner now calls Hunter Zinc™ Patina, a pre-weathered zinc surface whose tonality is closely resembles the limestone surroundings. This material was used throughout the museum, on both the interior and exterior building envelope.
Building the Hunter's Curves
The bright curving stainless steel surfaces on the Hunter Museum use two signature Zahner systems, the ZEPPS® Process and the Inverted Seam® Roof and Cladding system. These systems combine to make a roof which curves exactly as the architect's original drawings. This curving surface is visibly seamless and completely protects the building against the elements.
The stainless steel is treated and processed with the Angel Hair® mechanical finish, which reduces the glaring hotspots common on more reflective stainless steel, and enhances the sheen and glowing bounce of light that it generates.
Contractors standing below several recently installed ZEPPS® Panels during construction.
The most efficient and effective way to build these curves is with large ZEPPS® Assemblies which are produced in the fabrication shop and shipped to the site as preassembled massive panels, as pictured above the construction workers in the reference image, above.
You might also like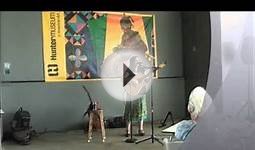 Lorelei Hunter Museum of Art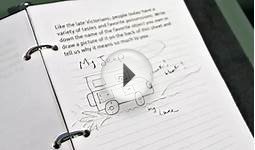 Precious Possessions at the Hunter Museum of American Art ...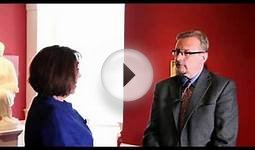 Local Feature: Hunter Museum of American Art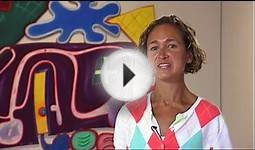 Hunter Museum of American Art | Tennessee Crossroads