Midwest Museum of American Art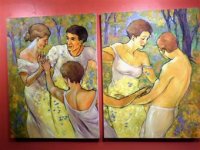 Steve Gruber
The reward of being accepted brings the opportunity for a museum patron to purchase a work ("purchase awards") and for work to also be distinguished with one of the judge's "Best of" award categories. Over $30, 000 in purchase awards were made this year. Additionally, cash prizes come with each juror's award. Since its inception in 1979, the Midwest Museum of American Art's remarkable Juried Regional has disbursed over $500, 000 directly to area artists via annual purchase awards. Some area collectors have designated purchase award levels for decades.
Connie Kassel's dream like oil "Karner Blue Butterfly: Dance on the Oak Savanna" is romantically rendered on 2 panels (Steve Gruber)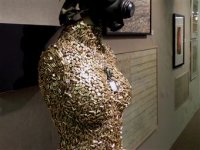 The media vary widely from frenetic metal sculpture to soothing landscapes, from bulbous ancient-looking ceramics to allegorical oils. Three galleries and two floors hold the 207 works that reflect each artist's "take" on subjects as diverse as mental illness, river ecology and vanity. Connie Kassal's light-filled diptych (2 panels) "Karner Blue Butterfly: Dance on the Oak Savanna" has a dreamer-like cast of dancers in circle. The effect is a joyful Scandinavian palette with Maxfield Parrish blues and a gossamer Midsummer's Night Dream tonality.
Gene Gamber's multi-media sculpture "Insanity" won Best Sculpture Award. Employing hundreds of spent pistol cartridges, with an MIA motif, this composition offers a provocative view on the loss of humanity. (Steve Gruber)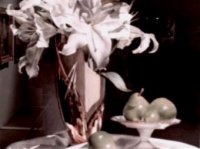 Gene Gamber's arresting multimedia sculpture "Insanity" won Best Sculpture Award. It is by turns fascinating and forbidding. A female mannequin's torso is intricately encrusted with spent brass pistol cartridges, military dog tags dangle from the neck, with an ominous MIA emblem – a dark metaphor for the "loss" of sanity amid the horrors of war. Behind a gas mask a woman's face, incongruously in repose, is replete with her blue eye shadow.
The exquisite, almost photo-realistic quality of "Still Life with White Lilies" earned Jacqueline Gnott the Jack & Karen Cittadine Award for Best of Show. (Steve Gruber)
Achieving a deft, nearly photographic effect in watercolor is painstakingly difficult. "Still Life with White Lillies" by Jacqueline Gnott is a breathtaking work of such achievement, winning the prestigious Jack & Karen Cittadine Award for Best in Show. Masterfully capturing folded linen reflected in a silver vase holding a tumble of white lilies, the multilayered placement is classic in its exquisite composition; superb in its technique.
Veteran nature photographer Stacy Lankford draws the viewer into a mesmerizing, almost sanctuary-like "tunnel" of rectangular arches beneath a Lake Michigan pier. The digital color photo captures a rosy twilight reflected onto the massive support beams from the water, which appears as a carpet of receding waves that seem almost an illusion. "Pier Watch" won Best Photography Award.
You might also like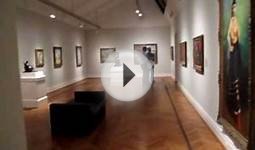 American Art Collection - St. Louis Art Museum, Missouri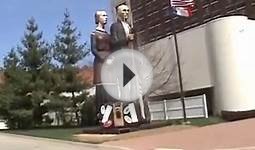 Dubuque Iowa Museum of Art American Gothic Statues, First ...