National Museum of American History exhibits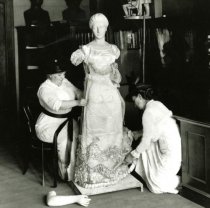 The first ladies exhibition began with a simple goal: obtaining a dress to represent the hostess of each presidential administration for a new display of historic clothing. It became an American icon and the highlight of many trips to the Smithsonian. The original Collection of Period Costumes exhibition included dresses worn by the wives of the presidents and the female relatives who sometimes served as the White House hostesses. It was the first Smithsonian collection focused on women and the first exhibition to feature them prominently. It paved the way for future collections and exhibitions about American women.
Featuring the First Ladies
Hoes and Julian-James dressing a mannequin in a gown worn by Louisa Catherine Adams
In 1912, Washington society leader Cassie Mason Myers Julian-James offered to establish a collection of historic costumes for the Smithsonian Institution. In collaboration with Rose Gouverneur Hoes, a descendant of President James Monroe, she developed the idea for an exhibition of women's clothing that featured the "costumes of the ladies of the White House." By 1914, the volunteer curators had assembled a collection of fifteen gowns contributed by the friends and families of former first ladies.
The Collection of Period Costumes
First ladies' gowns displayed in the Collection of Period Costumes exhibition, about 1930
The Collection of Period Costumes exhibition opened in 1914 in the Smithsonian's Arts and Industries Building. The cases featuring the first ladies' gowns quickly became one of the museum's most popular attractions. Labels included brief identifications but no biographical information about the women or detailed descriptions of their dresses. By 1931, there were costumes representing a presidential wife or hostess for each past administration.
First Ladies Hall, about 1960
The First Ladies Hall
In 1955, curator Margaret Brown Klapthor created a separate exhibition for the first ladies' gowns. The new First Ladies Hall was a series of popular period rooms, modeled after rooms in the White House, that placed the gowns against appropriate historical backdrops. Architectural elements salvaged from President Harry Truman's recent renovation of the White House were used in the rooms to heighten the feeling of authenticity.
You might also like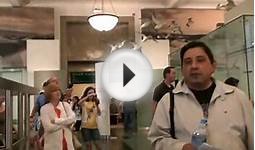 American Museum of Natural History Dinosaur Exhibits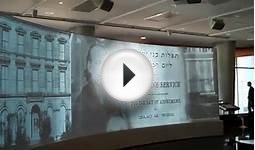 National Museum of American Jewish History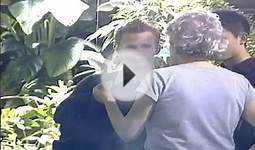 American Museum of Natural History Butterfly Exhibit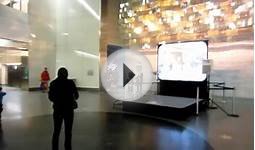 Star Spangled Banner Exhibit - National Museum of American ...
Decolonizing Museums: Representing Native America in National and Tribal Museums (First Peoples: New Directions in Indigenous Studies (University of North Carolina Press Paperback))
Book (The University of North Carolina Press)