National Museum of the American Indian architect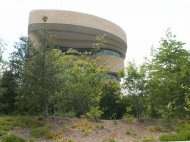 Introduction
Approach the east entrance, and you will pass landscaped pools, plants and rocks. The Museum's walls of rough-surfaced stone glow with a yellow, earthy tone. The building's curved, shelving overhang suggests a mesa, shaped by wind and water. This impression is no accident. The building and its setting consciously reflect both the natural and spiritual heritage of Native Americans – as home to the world's largest collection of Native American cultural displays.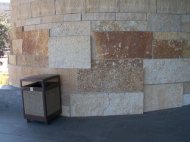 The Museum opened on September 21, 2004, feted with ceremonies, greeted by a 20, 000-strong procession of Native Americans, and lauded with speeches and intense national press coverage. The structure itself met with widespread architectural praise. Entirely overlooked amid these celebrations was a very different addition to the city's exhibits. Outside its doors, the Museum offers a new and striking paleontological display: stone surfaces rich in trace fossils from life in an ancient sea. Look at the surface of the pale stone panel protruding slightly from the wall, about thirty feet to the left of the main entrance doors.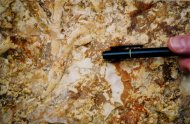 This panel is crisscrossed with dozens of winding, raised forms that suggest a bas relief of worms.
The tubular, spaghetti-like features are burrows left by invertebrates as they moved through the calcium-rich mud of a sea covering southeastern Minnesota nearly 480 million years ago, during the early Ordovician period. These burrows can be seen at many points as you walk around the museum, particularly on the western end.
The Fossils
Other areas of the Oneonta Formation have yielded fossil shells and other hard remains – cephalopods (squid-like animals), brachiopods (clam-like animals), gastropods and trilobites. Only trace fossils remain occur in the panels of this stone here, however. Trace fossils are tracks or disturbances caused by animals in sediments and ultimately in the resulting stone formations. They can be quite spectacular – dinosaur footprints are trace fossils. These trace fossils have their own interesting features.
You might also like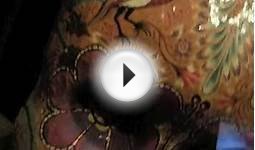 National Museum of the American Indian - Manhattan - New ...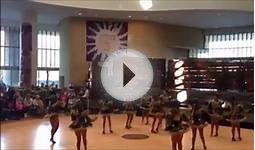 National Museum of the American Indian
NATIONAL MUSEUM OF PLAY GLOSSY POSTER PICTURE PHOTO rochester new york cool


Home ()




Available in your choice of 4x6, 5x7, 8x10, 8.5x11, 13x19 and 17x22 (SIZING IN INCHES)  (SIZING INCLUDES BORDERS)
All images printed on PROFESSIONAL GRADE GLOSSY PHOTO PAPER
Printed using UV resistant inks and professional printing process
Smaller sizes shipped securely between cardboard, larger sizes rolled into reinforced kraft tubes
PLEASE NOTE: IMAGES ARE NOT TOUCHED UP OR EDITED, THEY ARE PRINTED DIRECTLY FROM THE ORIGINAL TEMPLATE!
Photographic Print of Strong National Museum of Play, Rochester, New York State, United States of


Home (Robert Harding)




PHOTOGRAPHIC PRINT You are purchasing a 14x11 inch (36x28cm) Print. Estimated image size 355x237mm
High quality RA4 prints. Printed on Kodak Endura and Edge papers. Size refers to paper used. White margins may be used to compensate for any difference with the...
Artwork Description Strong National Museum of Play, Rochester, New York State, United States of Strong National Museum of Play, Rochester, New York State, United...
Artwork chosen by Robert Harding. (c) Richard Cummins
For any queries regarding this artwork please contact Robert Harding quoting Reference 3648793