Guggenheim Museum in New York City
"The space within became the reality of the building."
(Eric Peter Nash, Frank Lloyd Wright: Force of Nature [New York: Smithmark Publishers, 1996], p. 31)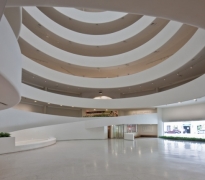 Installation view: Frank Lloyd Wright: From Within Outward, Solomon R. Guggenheim Museum, New York, May 15–August 23, 2009. Photo: David Heald © Solomon R. Guggenheim Foundation, New York
As you step forward the low-ceilinged area suddenly opens into the rotunda and draws your eye up to the skylight—or oculus—96 feet above you. The works of art remain mostly hidden. Before you get to them, you must experience the building itself.
Here we begin to grasp Wright's vision for the museum space—a spiral-ramped building topped by a large skylight. The main rotunda is the heart of the Guggenheim Museum. It functions almost like a town plaza. A quarter-mile of concrete ramps climb the outer walls. Visitors on the ramps not only view the art, but are also aware of people in other areas of the museum. On a busy day, you'll see a continuous flow of people moving along these ramps, viewing the exhibitions. Wright conceived of the museum as an airy, open place where visitors would not have to retrace their steps, instead entering the building on the ground level, taking an elevator to the top, and descending gradually, enjoying the art on display until returning to the entrance.
According to architectural historian and critic Paul Goldberger, "In many buildings, you observe them best by staying in one place and taking it all in. But the only real way to experience the rotunda is to move along the spiral. Because it's the experience of...feeling the space change, feeling yourself go round and round at this remarkable pace that Wright sets for you...seeing a piece of art that you have just seen close-up again across the rotunda from a distance. All those things are essential to the experience of the Guggenheim. It's a building that you cannot experience by sitting in one place. It was Wright's idea that the building is about movement through space as much as it is about space itself."
A monument to modernism, the unique architecture of the interior space, with its spiral ramp riding to a domed skylight, continues to thrill visitors and provide a unique forum for the presentation of contemporary art. Goldberger commented on how the Guggenheim changed the role of the architect: "Wright's building made it socially and culturally acceptable for an architect to design a highly expressive, intensely personal museum. In this sense almost every museum of our time is a child of the Guggenheim." Now some fifty years after the museum's opening, Wright's ability to design a space flexible enough to accommodate so many various exhibitions has proven itself.
You might also like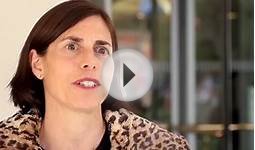 Guggenheim Museum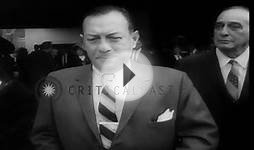 Solomon R. Guggenheim Museum opens in New York City. HD ...
New York


Book (Carlton Publishing Group)




ISBN13: 9781847015
Condition: Used - Acceptable
Notes: 100% Satisfaction Guarantee. Tracking provided on most orders. Buy with Confidence! Millions of books sold!
(24x36) New York City Guggenheim Museum 1965 Archival Photo Poster Print


Home (Poster)




Own a piece of history with this iconic image.
Licensed reproduction of original photograph from archival collection
To preserve authenticity this image has not been retouched.
ships quickly and safely in a sturdy protective tube
Paper measures 24.00 by 36.00 inches and includes thin white border

New York City Guggenheim Museum 1965 Archival Photo Poster Print - 13x19 custom fit with RichAndFramous Black 19 inch Poster Hangers


Home (Generic)




PROTECT YOUR POSTER and WALLS from tape, putty and thumbtack damage.
Rich and Framous Poster Hangers are easy-to-use, economical alternative to wooden or metal frames.
Resuable and made with pride in the USA of strong, lightweight resin for years of quality use.
EZ-Hang 8mm hole on back works with push-pin thumbtack or Removable Poster Hanger Hook (not included).
3-piece set includes poster shown with 2 custom fit Poster Hangers for top and bottom of poster.

Photographic Print of Interior of the Guggenheim Museum, New York City, New York, United States of


Home (Robert Harding)




PHOTOGRAPHIC PRINT You are purchasing a 14x11 inch (36x28cm) Print. Estimated image size 355x237mm
High quality RA4 prints. Printed on Kodak Endura and Edge papers. Size refers to paper used. White margins may be used to compensate for any difference with the...
Artwork Description Interior of the Guggenheim Museum, New York City, New York, United States of Interior of the Guggenheim Museum, New York City, New York, United...
Artwork chosen by Robert Harding. (c) Gavin Hellier
For any queries regarding this artwork please contact Robert Harding quoting Reference 3768629
Q&A
What is the address of the Guggenheim museum In New York city?
Guggenheim Museum 1071 5th Ave New York, NY 10128 (212) 355-4965? (212) 423-3500? Thanks for using.
Where is the guggenheim museum in new york city?
Guggenheim Museum (646) 613-1671 536 Broadway, New York, NY 10012