New York Battleship Museum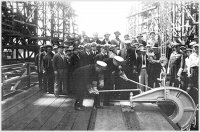 | | | | | | | |
1940
June 27 - Keel laid down at New York Naval Shipyard, Brooklyn, New York.
1942
August 27 - Launched at New York Naval Yard. Sponsored by Mrs. Henry A. Wallace, wife of the Vice President. Her sleek lines and raked bow fortells her high speed.
1943
February 22 - Commissioned (On Washington's Birthday) Commanding Officer Captain John L. McCrea USN.
February 24 - To Sea for shakedown in Chesapeake Bay and along Atlantic Coast.
July 9 - USS IOWA completed her post shakedown overhaul.
August 27 - En Route to Newfoundland and the North Atlantic for her first war patrol. Assignment, the "Tirpitz Watch", the German battleship, thereby contributing to the neutralization of the threat presented by that warship then poised in Norwegian waters.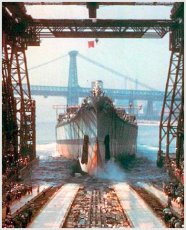 October 25 - To Norfolk Navy Yard for two weeks of maintenance in preparation for taking President Roosevelt to North Africa for Tehran Conference.
November 12 - En route to Mediterranean with FDR and other high-ranking members of American delegation to Mers-el-Kebir, Algeria and then Tehran. The Tehran Conference was with Stalin and Churchill.
December 16 - Completion of mission with return of FDR to United States.
1944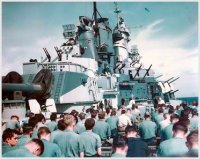 January 2 - En Route to Pacific as Flagship of Battleship Division 7, in company with USS NEW JERSEY. The USS IOWA became a charter member of the famous Pacific Fleet Task Force 58.
January 7 - Transit Panama Canal.
January 23 - First Pacific campaign in support of carrier air strikes against Kwajalein and Eniwetok Atolls.
February 16 - First firing of weapons in combat in attack on Japanese naval base at Truk in Caroline Islands. In action off Truk, the USS IOWA sank light cruiser Katori.
March 18 - First shore bombardment against Mili Atoll in Marshall Islands. The USS IOWA received her first hit when she was struck by two Japanese projectiles (5 inch and 6 inch). The 6 inch projectile hit Turret 2 and the 5 inch projectile hit the hull plating, neither of which caused significant damage.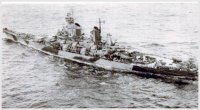 March 30 - In support of Task group 58, air strikes against Palau and Woleai islands, followed by further strikes against Hollandia, Aitape and Wake Islands.
April 22 - Supporting Army landing at Aitape, Tanahmerah and Humbolt Bays.
May 1 - Bombardment of airfield, bombs wharf and other enemy facilities at Ponape.
June 13 - Shelled Saipan and Tinian and blew up an ammunition dump.
June 19 - In action throughout battle of the Philippine Sea. Downed at least three attacking planes.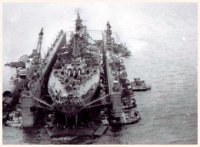 August - Commanding Officer Captain Allan R. McCann USN.
September - A unit of Fleet Admiral William F. "Bull" Halsey's third Fleet in support of carrier strikes against Philippine and Caroline Islands.
October 10 - Participating in air strikes against Ryukyu Islands, Taiwan and Luzon.
October 23 - Headed for Battle of Leyte Gulf.
November - Commanding Officer Captain James L. Holloway Jr., USN.
November 25 - Kamikaze attack on Third Fleet. USS IOWA claimed two Jills and a Judy.
December 17 - At Ulithi for replenishment and maintenance in drydock ABSD-2. Lost plane - washed over the side during typhoon.
You might also like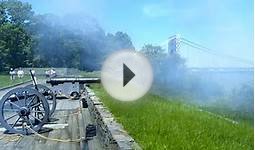 Bombing New York City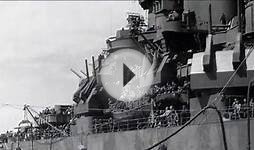 Greatest American Battleship - USS New Jersey (BB-62)
Battleship Evaporated Milk - New York No. 2, 44x66-inch Canvas Giclée, Gallery Wrap, Museum Size


Home (ArtParisienne)




12-Color Canvas Giclée Gallery Wrap (Stretched Canvas with 1-1/2-inch architectural depth); Printed with 12 Available Colors
100% All Natural Cotton Canvas; Treated with a Gesso Coating
Hand-stretched and hand-mounted on a wood frame; Ready for frameless presentation
Water Resistant and UV-treated Ink
Artwork is created especially for each order
Your Country Needs You - Flatiron Building - New York, 44x66-inch Canvas Giclée, Gallery Wrap, Museum Size


Home (ArtParisienne)




12-Color Canvas Giclée Gallery Wrap (Stretched Canvas with 1-1/2-inch architectural depth); Printed with 12 Available Colors
100% All Natural Cotton Canvas; Treated with a Gesso Coating
Hand-stretched and hand-mounted on a wood frame; Ready for frameless presentation
Water Resistant and UV-treated Ink
Artwork is created especially for each order
United States Navy First Class Cruisers New York and Brooklyn, by Werner Company, 44x66-inch Canvas Giclée, Gallery Wrap, Museum Size


Home (ArtParisienne)




12-Color Canvas Giclée Gallery Wrap (Stretched Canvas with 1-1/2-inch architectural depth); Printed with 12 Available Colors
100% All Natural Cotton Canvas; Treated with a Gesso Coating
Hand-stretched and hand-mounted on a wood frame; Ready for frameless presentation
Water Resistant and UV-treated Ink
Artwork is created especially for each order

The Recruit Replica Battleship - Enlistments in Union Square, 44x66-inch Canvas Giclée, Gallery Wrap, Museum Size


Home (ArtParisienne)




12-Color Canvas Giclée Gallery Wrap (Stretched Canvas with 1-1/2-inch architectural depth); Printed with 12 Available Colors
100% All Natural Cotton Canvas; Treated with a Gesso Coating
Hand-stretched and hand-mounted on a wood frame; Ready for frameless presentation
Water Resistant and UV-treated Ink
Artwork is created especially for each order

Britishers, Enlist To-Day, by Guy Lipscombe, 44x66-inch Canvas Giclée, Gallery Wrap, Museum Size


Home (ArtParisienne)




12-Color Canvas Giclée Gallery Wrap (Stretched Canvas with 1-1/2-inch architectural depth); Printed with 12 Available Colors
100% All Natural Cotton Canvas; Treated with a Gesso Coating
Hand-stretched and hand-mounted on a wood frame; Ready for frameless presentation
Water Resistant and UV-treated Ink
Artwork is created especially for each order